MAREX - Marine Extension Service
The goal of MAREX is to provide research-based information, educational programs and technology transfer to sustain natural resources, increase coastal stewardship and help coastal communities improve their quality of life. Using research and technology forged by MAREX, researchers and communities worldwide are able to enhance the compatibility of resource use among existing marine industries, businesses, regulators, and stakeholders. Learn about the Marine Education Center, UGA Aquarium, Shellfish Research Lab, and much more here. 
Georgia Sea Grant
Georgia Sea Grant works to engage and inform the entire state's citizenry through efforts to: support sustainable economic and population growth on the coast; provide tools to guide wise and efficient use of coastal resources; build a strong partnership between metro Atlanta and Georgia's coast; help create a robust state seafood industry; assist developers in adopting sustainable building practices. Together, Georgia Sea Grant and MAREX, encourage citizens throughout the state to become good stewards of coastal and watershed resources. Learn more about projects on coastal hazards, safe and sustainable seafood, healthy ecosystems, etc. Click here to learn more.  
Georgia Coastal Research Council
The Georgia Coastal Research Council (GCRC) was formed to provide a means of communication scientific knowledge and understanding between scientists working on the Georgia coasts and decision makers in the state. The GCRC is not a policy-making body, but rather provides the best, unbiased scientific knowledge and understanding to resource managers to aid them in their planning and decision making. The council is located on the Athens campus of the University of Georgia. Click here to learn more.
USG Scientific Diving Program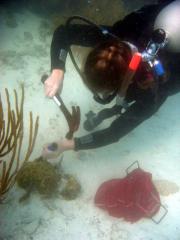 The University System of Georgia Scientific Diving Program is open to all state educational institutions in Georgia and provides expertise and training in scientific diving. Click here to learn more.
Georgia Southern University Applied Coastal Research Laboratory
The Applied Coastal Research Laboratory (ACRL) is a field laboratory located on Skidaway Island near Savannah, Georgia providing logistical support for field trips from inland areas, and access to large and small research vessels, geological and geophysical field sampling equipment and full GIS capabilities. Click here to learn more.
Gray's Reef National Marine Sanctuary
Gray's Reef National Marine Sanctuary is one of the largest near-shore live-bottom reefs of the southeastern United States. Click here to learn more.