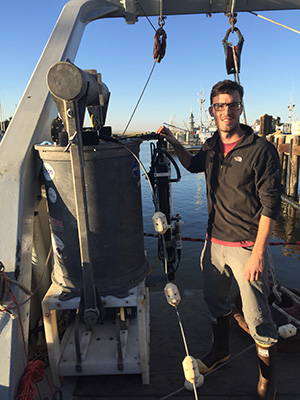 Students applying to the Marine Sciences graduate program must meet UGA's Graduate School Admission Requirements. To apply to our program, students should select Marine Sciences (MS), Marine Sciences (MS non-thesis) or Marine Sciences (PhD) in the drop-down box for "Degree and Major of Interest". The application processing fee is $75 for domestic applicants and $100 for international applicants. All students applying to the Department of Marine Sciences must apply through the Graduate school. All material will be available online for both the Graduate School and the Department to view, so there is no need to send hard copies. For your file to be considered complete and ready for review from the Graduate Affairs Committee, the following materials must be submitted:
Pay graduate application fee
Unofficial transcripts for all colleges attended. Official transcripts are not required for the review process and will only be required for applicants who are offered admission. Do not mail official transcripts until offered admission. 
Foreign student credentials (if applicable, this is submitted to the Graduate School)
Official TOEFL scores (if applicable, this is submitted to the Graduate School)
Three Letters of recommendation.  There is an online form available for submission through the Graduate School's application site.
CV/Resume
Statement of Purpose
Online supplemental Marine Sciences application form.
**GRE scores are not required, but we encourage you to report them if you have taken the test. If you have scores to report, list your scores and test date on the Grad School application as well at the Marine Sciences online supplemental form. Students may send unofficial scores to marscigradstudies@uga.edu 
NOTE: The Graduate School's application offers students an opportunity to upload writing samples. Students are welcome to include this in their application if they would like, but this is not a departmental requirement and is therefore not required. 
Application Deadlines:
The Marine Sciences Department hosts its annual graduate recruitment event towards the end of January or at the beginning of February. To be fully considered to attend this event, all application material should be submitted before December 31st. Late applications will be considered until July 1st for Domestic Applicants and April 15th for International Applicants. Note that students in the Marine Sciences department are predominantly accepted in Fall semester and students should apply by the end of March for full consideration.  
More Information
As your application documents are received, they will be passed to the appropriate faculty. Positive departmental admission decisions typically depend upon a potential future advisor promoting the application if there is an opening in their program. Thus, it is important that applicants familiarize themselves with the research done in the department, identify and communicate with potential advisors.
MS (thesis program) and PhD students are supported through Research and Teaching Assistantships for the duration of their studies. Non-thesis MS students are eligible for Teaching Assistantships, if available. In addition, for MS (thesis program) and PhD, tuition is waived, medical coverage is subsidized, and both Athens and Savannah have a low cost of living compared to most university towns.
For more information or if you have specific questions about the program please contact: 
Dr. Cliff Buck
Graduate Coordinator
Department of Marine Sciences
csbuck@uga.edu