Image: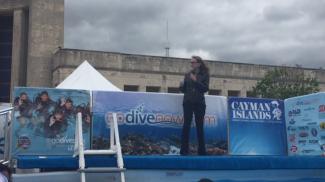 Dr. Samantha Joye attended the 2017 Earth Day Texas (EDTx) Expo and Conference event in Dallas, TX April 21-23. She participated in two panels: Coral Crusaders, a panel about the dangers to and ways to help save shallow and deepwater coral ecosystems and Ocean Conservation - Thinking outside the box. She also spoke to science marchers after the Dallas Earth Day march. 
Founded in 2011 by Dallas-based environmentalist, philanthropist and businessman Trammell S. Crow, EDTx promotes environmental awareness by curating an atmosphere for conscious business and community-driven sustainable solutions. The event kicked off Friday, April 21st, 2017 with prominent speakers and exhibitors including Rick Perry, United States Secretary of Energy and Scott Pruitt, U.S. Environmental Protection Agency Administrator who both made remarks at the E-Capital Summit.
You can find out more about this incredible event online at http://earthdaytx.org/.