OneSource is UGA's project to launch a new finance and human resources administration system that's integrated, efficient, modern and supports a data-driven environment. The implementation of the financial system, PeopleSoft, will be July 1, 2018 and the implementation of the human resources system will be December 16, 2018.
Project Timeline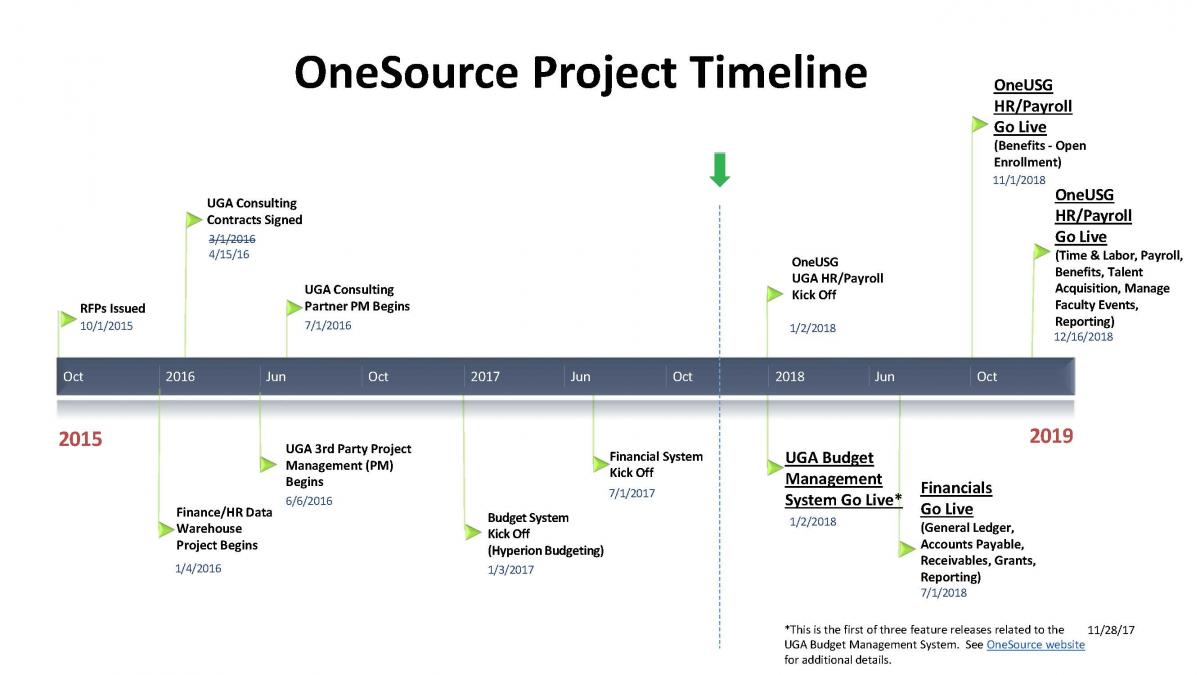 System Changes
As part of the OneSource project, a number of systems used by the UGA community will change. See below for the system changes that will occur this year-
Phase 1 - 01/01/2018 - 06/30/2018 (condensed for departmental users)
See here for a complete list.
Fiscal Year-End Deadlines
See below for our departmental year-end deadlines for fiscal year 2018.
For a full list of year-end deadlines, please see here. Note that the department has set earlier deadlines so that we can process everything through our department in a timely manner.
UGAmart will be unavailable from 06/26/18 – 07/08/18  for any use– due to the financial system changeover. Any orders put in by the deadline will be processed as normal but UGAmart will be unavailable for viewing the order status. Please plan accordingly before this blackout period.
OneSource Resources
Spring 2018 Key Messages for Faculty & Staff
Payroll Transitions Resource Page  
Personnel Activity Report (PAR) Replacement
Chart of Accounts Conversion Tool (use for grants at this time)
Instructions for Travel Authorities & Expense Reports (effective 07/01/18)
Business Office Email: marsci-business@uga.edu
Jackie Fortson, OneSource Change Champion/ Guru/ Facilitator, jfortson@uga.edu
Beth Allinger, OneSource Trainer- Accounts Payable, calling1@uga.edu
Cat Mills, OneSource Trainer- Asset Management, catmills@uga.edu
-Updated 06/18/2018