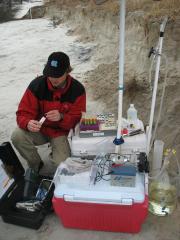 Marine Sciences faculty participate in the University of Georgia Water Resources Certificate and the Coastal and Oceanographic Engineering Certificate Programs. There are numerous other certificate programs, including Bioinformatics, Conservation Ecology and Sustainable Development, Environmental Ethics, Geographic Information Science and University Teaching open to our graduate students. A complete listing can be found at the Graduate School webpages.
The Water Resources Graduate Certificate Program provides a common curriculum to meet the educational needs of the next generation of environmental scientists and managers. Many of the courses provide hands-on experiences in an outdoor setting to learn about water resources. The purpose of the program is to train students to manage our scarce water resources for the maximum benefit of the world's population, while at the same time preserving the ecologic integrity of our aquatic resources.
The Coastal and Oceanographic Engineering Certificate is a joint program by the Marine Sciences and the College of Engineering and focuses on the application of engineering principles to the marine environment, including marine instrumentation and coastal and near-shore modeling.
For more information visit the certificate websites or contact the Department of Marine Sciences (706) 542-7162 (marscigradstudies@uga.edu)