Image: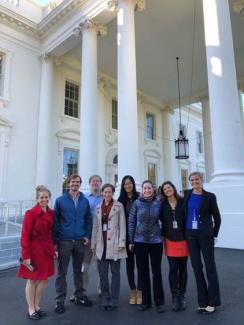 We caught up with Rachel (Shiyu) Wang- seen in the picture here (fourth from the right) with other 2017 Knauss Fellows visiting the White House- and asked her to tell us a little about her Knauss Fellowship, which was originally posted about here. Here is what she had to say:
"I don't know what I can do with my science degree other than research." - Something I constantly heard from graduate students, including myself, when I was in graduate school. After a year of being a Knuass Fellow, my response is: there are tons of things you can do! Starting with the Knauss Fellowship!
The Knauss Fellowship, funded by NOAA National Sea Grant Program, provides a unique one-year experience for graduate students and recent graduates to work on ocean and coastal issues in the legislative and executive branches of government in the Washington, D.C. area. The fellowship has not only helped me take a great footstep into the marine policy realm, but also opened the doors of the non-academia world to me.
Since the start of my fellowship, I have overseen multiple projects for NOAA Office of Aquaculture, including assessing all NOAA funded aquaculture projects from various grant sources and longitudinally evaluating the pathways of the aquaculture workforce. In additional to my office work, I had the opportunity to travel to Hawaii to facilitate the Pacific Island Environmental Impact Statement for Aquaculture Activities Workshop, and (if Hawaii is not far enough) I traveled to Japan as a representative of the U.S. delegation to present NOAA's effort in aquaculture in a changing environment.
For my current position, I don't directly do science, but my job makes me admire science even more. The fellowship experience allowed me to connect the science dots together and understand how different entities (academia, government, NGOs) work collectively, using science to inform decision making for society.
Working in D.C. can be overwhelming and challenging, but the good thing is I am not alone. Each year the class of Knauss family gains about 60 fellows. We are all relatively new to policy and to the city, so we support each other both for work and for life. We went to the Hill to participate in a public hearing, visited the Pentagon and met Department of Commerce Secretary Ross. Just last week, the social committee of Knauss fellows threw a Knauss Ball, where everyone got to dress up and enjoyed a social dancing night together as the end of the fellowship is approaching.
I hope to see more UGA graduate students who have an interest in marine policy apply for the Knauss Fellowship. Please shoot me an email if you have any questions about the fellowship: sywang@uga.edu. I am happy to answer questions or just chat about my Knauss Fellowship experience!
All of us here at the Marine Science department hope that Rachel continues to have a rewarding experience with her fellowship and invite anyone with questions to contact her. She is a bright and determined individual, and we know that there are amazing things on the horizon for her!