Image: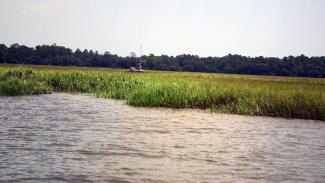 Darien GA - "The SALTEx project is part of the Georgia Coastal Ecosystems Long-term Ecological Research (LTER) project. There are 25 LTER sites worldwide funded by the National Science Foundation that study long-term transitions in different ecosystems. Marine scientist Merryl Alber directs the Georgia Coastal Ecosystems project as well as the University of Georgia Marine Institute.
Unlike a typical science study, which lasts three to four years, Alber and her colleagues run single projects that extend for a decade or longer. By taking extra time, the researchers can dig deeper into the myriad nature of ecosystems.
The salt marshes of the Altamaha river delta and its barrier islands are a sort of ecological cathedral. This coastal region shows what happens in a relatively pure environment. Researchers here devote much of their time to studying the alarming and already-very-present outcomes of sea level rise. And if wildlife becomes imperiled here, it may spell worse tidings for other coastal habitats."
Read more here.